The primary mission of the Resource Office on Disabilities (ROD) is to facilitate individual accommodations for all students with disabilities throughout the entire University, and by so doing, work to remove physical and attitudinal barriers, which may prevent their full participation in the University community.
Often, the physical barrier is the easiest to remove - the attitudinal barriers are much more difficult. To create a university community, which is truly accessible to and inclusive of all persons, including people with disabilities requires the participation of each and every member of the community. Toward this goal, the Office serves as a resource and a catalyst for change by providing technical assistance, information, and disability awareness training to any member of the Yale community.
We encourage current, past, and prospective students with disabilities to contact us for more information. We welcome the opportunity to hear from you.
Contact Information
Sarah Scott Chang, Director
Sarah became Director in 2018 after serving as Associate Director for almost two years. Prior to Yale, Sarah worked at Washington University in St. Louis and Duke University. Sarah has a B.S. from University of Missouri St. Louis and a J.D. from University of North Carolina School of Law at Chapel Hill. She grew up in rural Missouri and identified as a first-generation and low-income student. Sarah is a Fellow at Jonathan Edwards College. When Sarah's not working with students, you can find her hiking Connecticut trails with her family and two Old English Sheepdogs, Coco and Otis.
___________________________________________________________________________
Erin Braselmann, Associate Director
Erin joined the Resource Office on Disabilities in 2018. Erin earned a B.A. from Concordia College and an M.A. from the State University of New York at New Paltz.  Erin has been dedicated to academic diversity and access and equity in higher education during her career.  While she's away from the office, Erin spends time with family, friends, good food, and great books.
___________________________________________________________________________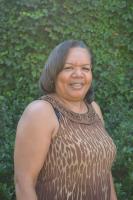 Carolyn Barrett, Sr. Administrative Assistant
Carolyn is the Sr. Administrative Assistant of the office and serves as the principal source of information to students and staff. She schedules and coordinates meetings and appointments for all office staff.  Outside of work, Carolyn enjoys spending time with her family, at church and with her grandson RJ.
___________________________________________________________________________
Resource Office on Disabilities 
Yale University 
35 Broadway (rear entrance), Room 222 
P.O. Box 208305
New Haven, CT 06520-8305
Phone: 203-432-2324
Fax: 203-432-8250
Office hours:
Monday through Friday, 8:30 a.m. to 4:30 p.m.
Please call or email to schedule an appointment.
Directions to the Office
There is a walkway heading west near the Hall of Graduate Studies (320 York St.) located between Toad's Place and Mory's. The building is the first on the left, set back with a blue awning indicating 35 Broadway. An elevator is located at the entrance of the building. The offices are on the second floor to the left as you leave the elevator, and you can check in at room 222.